I'm the one and only
Chan Ga Yen
But that's enough to make problems.
Therefore, I'm an endangered species. :)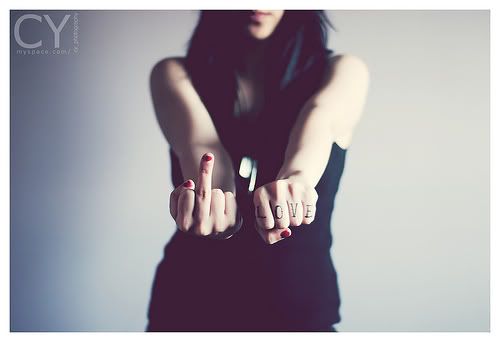 I don't enjoy love life.
Thursday, December 2, 2010,4:18 AM

It had been a month since I last update my blog. It's because of exams and all sorts of stuff and I

kinda get bored with blogging

. :) I'm also busy with Facebook awesome games, stalking and holiday-ing!

One thing I realize is that, it wasn't love at all. I can't forget him is because he coupled up with my friend after me. So it's like jealousy, not love. I don't get all the butterflies in my stomach when he text me. It's like getting normal texts from some normal friends. LOL. That's good news number 1.

The second thing is that my friends and I, we're going KL this Saturday! 3 days 2 nights with only friends. I know it's awesome. :) Many things happened when we planned for the trips. I can't go for two nights and all my friends can't take the night train. So I kind of asked them to take the evening one but everyone ignored me. == I know they wanted to have fun for another night. But I can't leave my mom alone in the house right? My dad and sisters went to Thailand. But anyway, I kind of tolerate a bit cause it's like the first time in our life and everyone's very excited. I hope we'll get fun. I hope this KL trip will not disappoint me.

I'm so sorry mom. I kind of cried alone cause I feel really really guilty leaving my mom alone for two nights. Call my mama girl, I admit I am. Though we kind of argued and I told myself I hate her but deep in my heart, I know I love her. I really wanted to say sorry but I didn't know how to start. My mom didn't comment anything but I knew she doesn't like it. My dad, on another hand, he allowed me to go IF mom allows me to go. Since mom has no comment, so I get to go. Dad said he won't gimme any money, ask me to take care myself, not fetching me and all sorts of stuff. But then, today morning, he put 4 pieces of RM50 into my wallet. I heard from my sister that he wanted to gimme the money yesterday but he's quite disappointed with my attitude. That's because I slammed the door and shouted at him. Damn guilty now. :(

I know my post is sort of wordy but I'm sorry I don't like to take pictures every single day,

like her

. XD
Saturday, November 6, 2010,5:55 AM

JJ with family. :)
Friday, November 5, 2010,7:05 AM

Gossips.

So people starts to think that my relationship status in Facebook is true. Sorry people, but I won't couple up with my friend's ex. It's something impossible. I don't like to take my friend's "trash". There's so many other guys out there, please. It's fake. Can't people just use their fucking brain to think? They just fuckin' can't stop gossiping. I do care about my friend's feeling and Lynn already know about this before I even post it in Facebook. Bitches out there, before you consider something please use your brain and THINK RATIONALLY.

Whenever I date, last year, I did asked some of my friends to go out with me. I'll consider about my friends wherever I go. Compared to them, they don't fuckin' care about me. Maybe they need some time and space for them to be with their boyfriend. At least tell me where you go, I'll not disturb you people dating. Worse thing, I might just walk alone. That's what I did, right? I asked my friends all. Now they said I did not ask them to hang out when I'm dating? WTF.
Thursday, November 4, 2010,6:57 AM

Jay Chou

I'm so addicted with Jay Chou recently. :)
Wednesday, November 3, 2010,8:41 AM

Ipoh Parade

So I went Ipoh Parade today, to find part-time jobs. Frankly, daddy don't really like it when I said I wanna work. He's worried that working might affect my studies. So I told him it's only for holiday and convinced him for three days just to work. I need more money, daddy. So yeah, I went into ALMOST ALL the shops to get part-time jobs, found quite

a lot

. After that, SinYin went home. So I shop with my other friends.

This thing cost me, ONLY ME, RM30.05. Cause only I ate. :)
Monday, November 1, 2010,5:32 AM

I'm back. :P

an awesome song. :)

I've got nothing better to post.
| | | |
| --- | --- | --- |
| | | |